Have you ever looked at my site and thought, "Man, I really wish there was a large skull at the top of screen"? Well, wonder no more! The old Mary Death header has been retired and updated with the new skull logo. It may not bring new meaning to your life, but it will make for a nice mark to associate with Mary Death.
In other news, do you live in the North East and like comics? If so, the Small Press Expo (SPX) will be held in Bethesda, MD this month and runs from Sept. 14th – 15th. I, however, will only be able to attend on the 15th. So, if you are planning on going maybe you can spot me. (Hint: I'll be the only person wearing a Mary Death shirt).
Hope to see you there!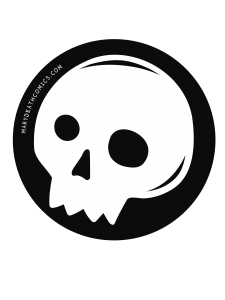 Hello friends!
I want to give big thanks to Adam Huber, creator of the comic Bug Martini, for sharing my comic with his readers. If fact, I want to use my first blog post to thank him! Adam has generously helped expose my comic to new readers whom might have gone on living without ever knowing Mary Death existed (You guys took down the site momentarily!) and motivated me to take Mary Death more seriously.
I look forward to seeing where this adventure takes us.
By the way, Bug Martini is a great comic with fantastic fans and if for some bizarre reason you haven't read Bug Matini yet, you should go do so NOW! Seriously.
Also, have some fan art.
- M
Fun fact: Yes, Mary is a Whovian.